Merry Christmas & Happy Holidays
We sincerely thank you for helping us facilitate our objectives and further our mission. The Farley Foundation could not have made it this far without your generosity, whether in the form of a donation of time or money, or by adopting one of our animals. Still, our costs continue to increase in most expense areas and your financial help is critical to our future. On average, and accounting for all of our expenses, each rescued dog costs The Farley Foundation nearly $500 to complete the process we insist upon implementing. Our adoption fees only cover about fifty percent of those costs. The net difference is covered by donations.
We have accomplished quite a bit in two years and will do more only with your support. Thanks to you, over 250 animals will be enjoying the holidays with their families in forever homes. Please help us continue our efforts to positively impact the serious animal overpopulation crisis here in Moore County and elsewhere. The Farley Foundation's objectives include promoting "no-kill" advocacy; preventing animal cruelty; encouraging animal welfare volunteerism; supporting spay, neuter and pet identification programs; and working with other local animal welfare organizations in achieving similar goals.
As the days slip by and the holidays draw ever near, please remember The Farley Foundation in your year-end charitable giving. To make a donation, simply mail your check payable to: The Farley Foundation, P.O. Box 606, West End, NC 27376.
Sincerely,
John and Betsy Ficarro, Co-Founders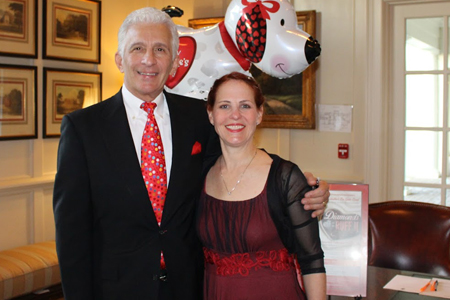 Our Mission
Our mission is to help reduce and ultimately eliminate the unnecessary killing of homeless adoptable animals in Moore County and elsewhere in North Carolina.
We also support the "no kill" shelter philosophy (to learn more, visit www.killnomore.org) and will undertake other animal welfare issues when appropriate.
Accomplishments and the Future
We created The Farley Foundation in early 2014 initially as a potential forum for animal welfare advocacy, pet responsibility and education. Changing circumstances led to a change in our direction. In the Fall of 2014 we began facilitating the rescue, transport, and adoption of kittens with a northern rescue group. Soon thereafter, we were provided a unique housing opportunity for rescued dogs.
When Debbie Adoree and Jimmy Dickenson, owners of Seven Lakes Kennels, generously donated the use of an outdoor pavilion containing 20 kennels, we immediately began rescuing at-risk dogs. As of this writing, we have saved the lives of 255 animals (an average of 20 per month) most originating here in Moore County.
We believe that most, if not all, of these animals would have been unnecessarily destroyed if they were not rescued… and without your support and generosity, this would not have been possible.
Still, thousands of adoptable animals are unnecessarily killed each year in North Carolina public facilities. We will continue our efforts and with your ongoing support, hope to fulfill our ultimate objective of eventually going out of business. In the meantime, there is no shortage of opportunities to save the lives of so many homeless and defenseless companion animals.
Helping Dogs in Need
Many otherwise adoptable dogs are killed in public facilities solely because they have special needs, whether reversible unwelcome behavioral issues or treatable medical conditions. Although we prefer to rescue adoptable animals with no such issues (simply because they are more likely to be quickly adopted, thereby opening space for us to rescue another) we sometimes encounter special dogs in need and feel compelled to take them into The Farley Foundation.
Wiggles is a healthy one year old hound/pitbull mix who is blind in one eye. Because of this "defect", his fate at the county shelter was uncertain. We rescued Wiggles in early November and discovered that he is a playful, active and affectionate young dog… and not at all hindered by his partial loss of vision. Wiggles is now available for adoption.
Duncan, a handsome one year old husky/Labrador mix, demonstrated unwelcome behavior with respect to "resource guarding," a common fear of food or toys being taken from him. Since this type of behavior is reversible and Duncan is such a charismatic dog, we engaged the services of an off-site trainer.
Duncan spent three weeks at The K-9 Coach of the Carolinas, a group whose focus is helping special needs dogs. Duncan graduated, returned to The Farley Foundation, and impressed everyone with his good behavior and impeccable manners. He has been adopted by a loving family where he enjoys all of the comforts of home plus a huge fenced in yard!
The feelings we have for Duncan were expressed beautifully by one of our Volunteers: "Yesterday was the most depressing opening morning in my 23 months as a volunteer at The Farley Foundation. Although I'm very glad Duncan has a perfectly wonderful home, it wasn't the same atmosphere at the kennel. I missed his loud bark as I got out of my car. I missed his louder barking as I opened the back door. I missed his mad dash for the outdoors, leaving his perfectly clean kennel. I missed those big brown eyes looking at me as if to ask, 'When do we eat and what's on the agenda?' Duncan, from all of us, you will be missed, but you will NEVER be forgotten!"
We would not have been able to save Duncan or Wiggles (and many other wonderful companion animals afflicted with medical conditions) without your help. Please remember that there many more dogs with treatable behavioral or health issues that require too much time and money for a public facility to absorb.
Recent Events
An important aspect of our rehabilitation and training process is providing opportunities for the dogs' socialization away from our facility. A 90 minute walk through Rassie Wicker Park in Pinehurst or through the Southern Pines business district allows our dogs to enjoy exercise while exploring new environments.
After strolling through the beautiful trails of Rassie Wicker Park in Pinehurst, volunteers and dogs take a break. Local events such as SpringFest and AutumnFest in Southern Pines and HollyFest in Pinehurst provide new, healthy experiences for the dogs, helping them gain confidence and the ability to adjust to new social situations.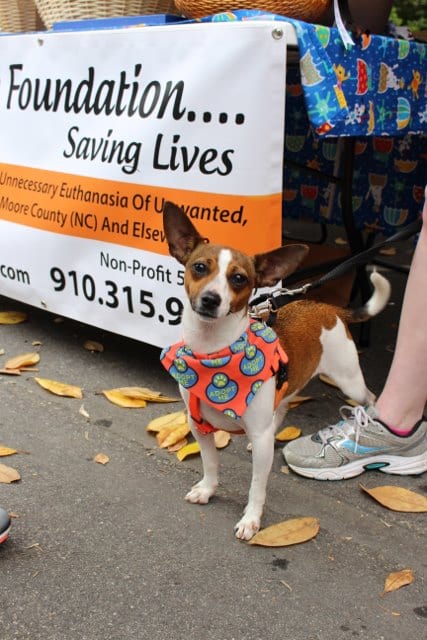 The Farley Foundation recognizes other corresponding needs in our community and that interaction between the dogs and individuals, whether the elderly or those with special needs, benefits both significantly.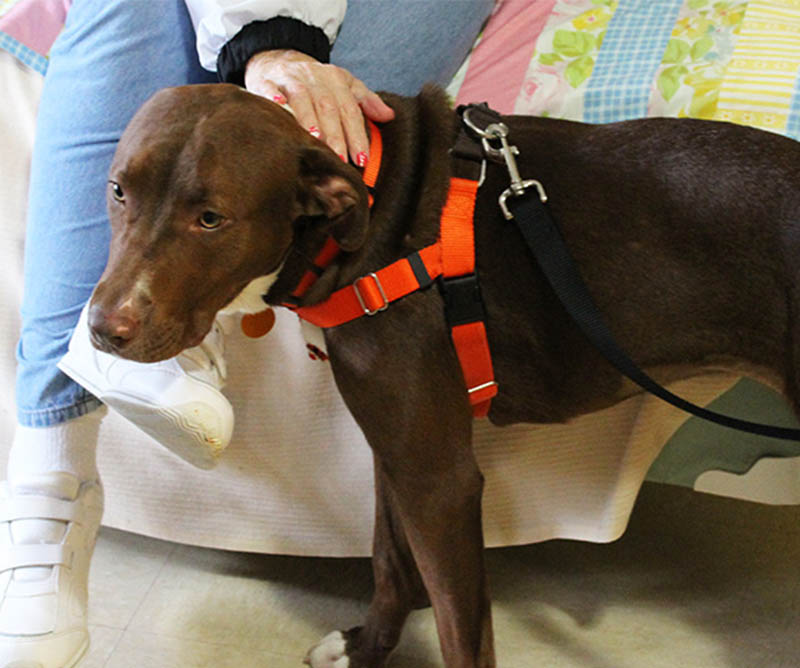 Charlie, adopted in 2016, visits Sandhills Memory Care in Seven Lakes. She is one of several Farley dogs who have brightened the day for many residents during their visits! "Strut Your Mutt," a fundraising event at Pinecrest High School created and managed by Farley Volunteer/Pinecrest student, Brooke Ohlinger, was held in June 2016. All proceeds benefited The Farley Foundation.
Strength through Partnerships
We are blessed with support from many in our business community, as well as a number of individual donors, and of course, our dedicated volunteers. Our principal business partner is Seven Lakes Kennels. Co-owners Jimmy Dickenson and Debbie Adoree generously provide the kennel space that allows The Farley Foundation to administer its unique form of animal rescue, care, and adoption.
Many in the local veterinary community provide The Farley Foundation with favorable rates on services and supplies. We are grateful for their support and demonstration of professional responsibility, in particular: Dr. David Garza of PineHills Veterinary Hospital in West End; Drs. James Watson and Laura Whitehead of Pinetree Animal Hospital in Aberdeen; Dr. Tim Boyte of Carthage Animal Hospital in Carthage, and Dr. Dan Nordland of Yadkin Park Animal Hospital in Southern Pines. Local retailers such as Cared For Canine and Cat, PetSmart, and Tractor Supply also support The Farley Foundation in a variety of ways, and we thank them.
The Farley Foundation endeavors to find suitable local homes for its "graduates" but periodically transports dogs to our rescue partner, Double Dog Rescue in Unionville, CT. Upon arrival, our dogs are immediately placed in a foster home; adoptions are handled by Double Dog through their regional network throughout New England. We are extremely fortunate to have formed this relationship with a group that shares our mission of qualitative animal rescue.
Facility Improvements
Much has changed since our arrival at Seven Lakes Kennels on October 1, 2014. The existing outdoor canopy with 20 kennels was improved by adding roll-up side panels and enclosing the back of the structure. A new insulated ceiling was installed with fluorescent lighting and new wiring. A separate electrical circuit was added, enabling us to add GFI outlets for newly purchased industrial fans, critical during the hot summer months. Propane heating was added to control indoor climate conditions during the winter months.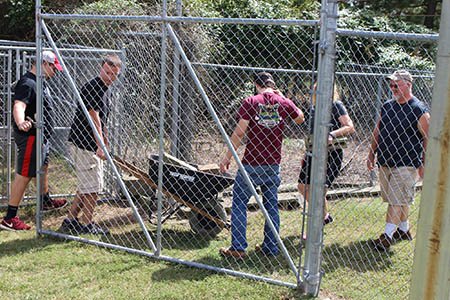 Outdoor sanitary banking kennels were added including a canopy covering half of each outdoor kennel. The play area was re-sodded and reconfigured with gravel, providing a safe area for dogs to play and exercise off-leash.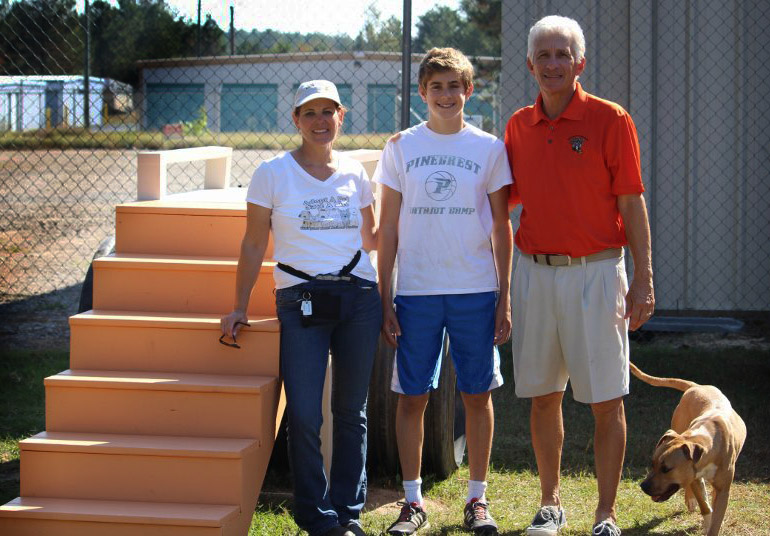 In November, our outdoor space was further enhanced with the addition of agility equipment, designed and built by Troye Curtin, a 14 year old Pinecrest freshman and member of Boy Scout Troop 223. When Troye's grandmother adopted a Farley dog named Lacy, Troye selected The Farley Foundation as beneficiary of his Eagle Scout project. Troye consulted with Dr. Dana Vamvakias, owner of Vanguard Veterinary Hospital in West End, about the appropriate type of equipment for a shelter environment. He then recruited Nick Vamvakias as his project coach to guide him through the administrative process. Troye raised the necessary funds through a GoFundMe campaign and by contacting local businesses for additional donations. For guidance during the construction phase, Troye enlisted Jeff Boody, owner of J & L Home Services, West End, as his mentor. Jeff's donation of his experience, time, and workshop was critical for the project. Many other family members, friends, scouts and scout leaders helped with priming and painting, delivery and installation.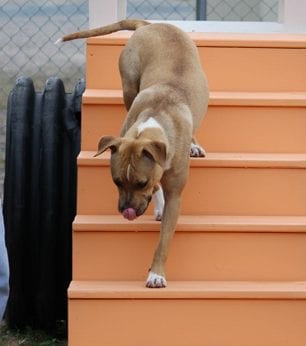 Sweetie, a 2 year old female pit mix, entertains herself by racing over the sway bridge. Four or five laps up and over the various pieces are all that's needed to work off excess energy. A tired dog is a content dog! Since the installation of the three pieces (a crawl box, a sway bridge with two ramps, and a ramped dog walk with stairs and a tunnel) Farley dogs have made good use of the equipment, showing off their gymnastic talents while entertaining those who watch!