We once again want to take this opportunity to thank all of you who continue to support the Farley Foundation and its mission of eliminating the unnecessary destruction of adoptable homeless animals.
We have invested significant time, energy and money to create an extremely animal-friendly environment with one simple thought in mind: the best interest of each dog will always come first. We are proud to have applied this principle to the 300 animals we have rescued to date.
The Dog Days of Summer
In early April, we reduced the number of dogs in residence, all of whom would certainly have been destroyed if left in a public facility.
Also, due to the summer heat and its impact on our remaining residents (we have no way to adequately cool our facility) as well as the loss of kennel help, we used foster care for the dogs we still had with us. This change of environment for our dogs has benefited them in many ways.
Good things come to those who wait…
We are pleased to report that one of our trio, Champ, was adopted on April 17th by his foster parents! The result was long overdue but eventually the perfect placement manifested itself for this senior guy. Congratulations to TFF Core Volunteer, Diane Lisevick and husband, Steve for opening their hearts and home to such a sweet, deserving boy.
Champ – Fostered and Adopted by TFF Volunteer, Diane Lisevick
We continue to believe in our high standards for animal rescue and incorporating outside socialization into programs that give back and help the local community. This also helps create awareness of what is clearly a community issue. Our remaining two, Abbey Gal and Lazarus remain in foster care but continue visiting the Seven Lakes Memory Care on a weekly basis. Both dogs are always elated to see one another and love spreading the good cheer to the residents. With their continued presence, many of the residents will often recall the dog's names and dispense treats with the appropriate command of "sit".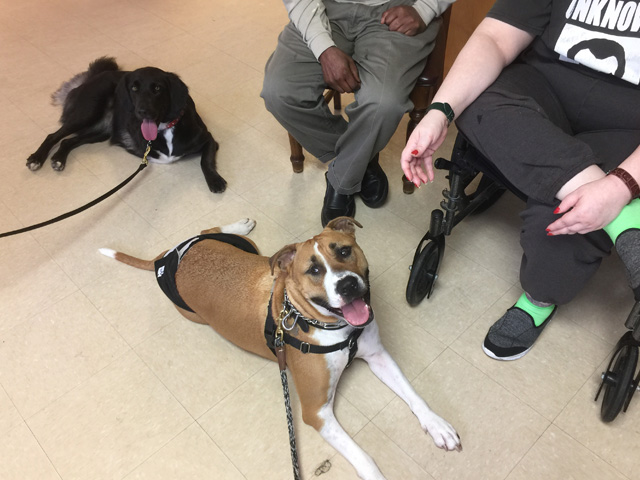 Abbey Gal and Lazarus giving back to our community in need
We are using this time away from managing daily operations at our shelter to assess how we will move forward. We are concentrating our efforts accordingly. Our principal focus is how to best use the financial and volunteer assets we have to rescue more at-risk animals while still employing our standards of care and adoption protocol that will ensure success for each dog in its new, forever home. It is a difficult balance to achieve with our limited resources.
Although Abbey has settled into a routine with her foster family and is gaining interest, we have had no choice but to bring Lazarus into our home. Needless to say, we are outnumbered! We have six other rescued pets of our own to care for so our time to focus on other TFF matters is very limited. Consequently, we are still seeking permanent foster care for Lazarus so that he will receive more one on one time with a loving caretaker. We know that foster families are difficult to find, particularly during the summer travel months but perhaps someone on a limited income or a student would benefit from his easy companionship without the financial costs (underwritten by TFF) to ensure his happiness and health. The requirements include the following: local resident within driving distance so we can assist with medical needs and a single family dwelling, preferably with a fenced yard.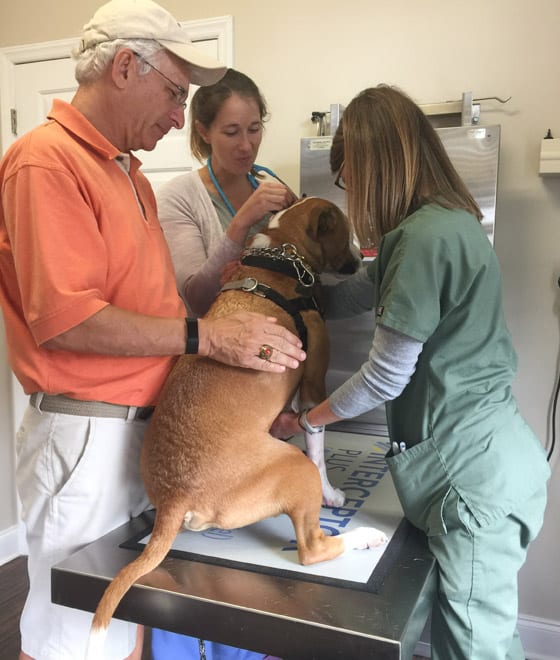 Lazarus's quarterly checkup
Lazarus's daily care, restricted diet and medical costs are ongoing. Only with your continued support and donations will he be able to live a fulfilled life but our commitment to him never waivers.
Recent Events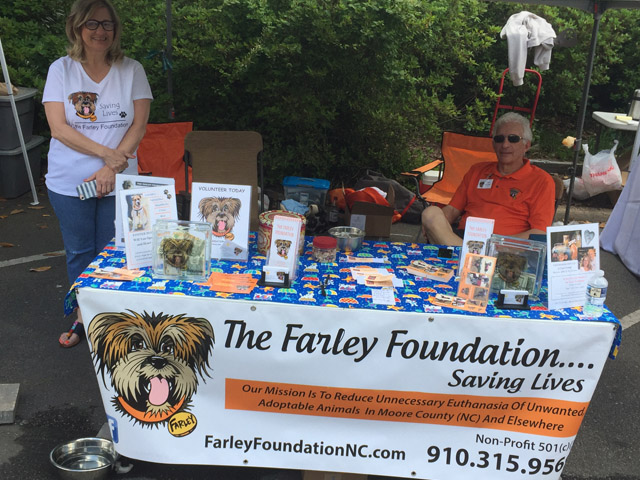 Trish Elliott and John at our Springfest 2018 booth in Southern Pines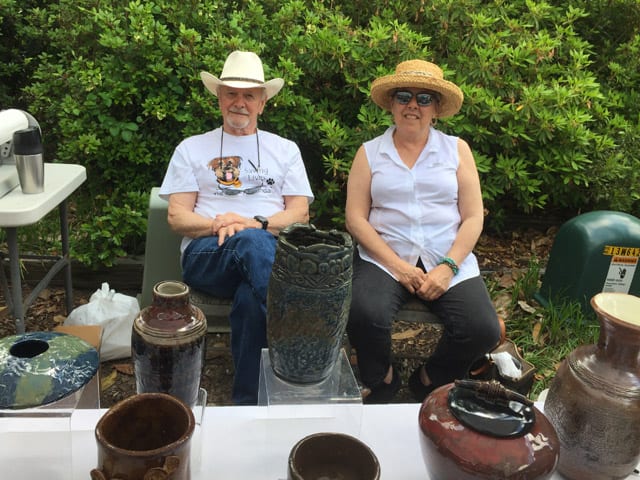 Mo and Sally Larson of Fireshadow Pottery (shown above at their adjacent booth) donated all of their Springfest pottery sales to TFF. We thank them for their hard work and exceptional generosity.
As always, a special thank you goes out to all of our donors and the small but dedicated core of volunteers who have given us the opportunity to save 300 animals from likely destruction…and with your help, we expect to continue making a difference.
(L to R) Betsy Ficarro, President, Volunteers: Trish Elliott, Do Shaver, Cathy Pritchard, Gail T., Bill Graham, Beverly Powell, Diane Lisevick, Kristen Seawell, Lynne Albert and John Ficarro, CEO
If you wish to volunteer and/or become a Farley Foster, please contact us.
Mutts Appreciated,
The Farley Foundation John and Betsy Ficarro, Founders