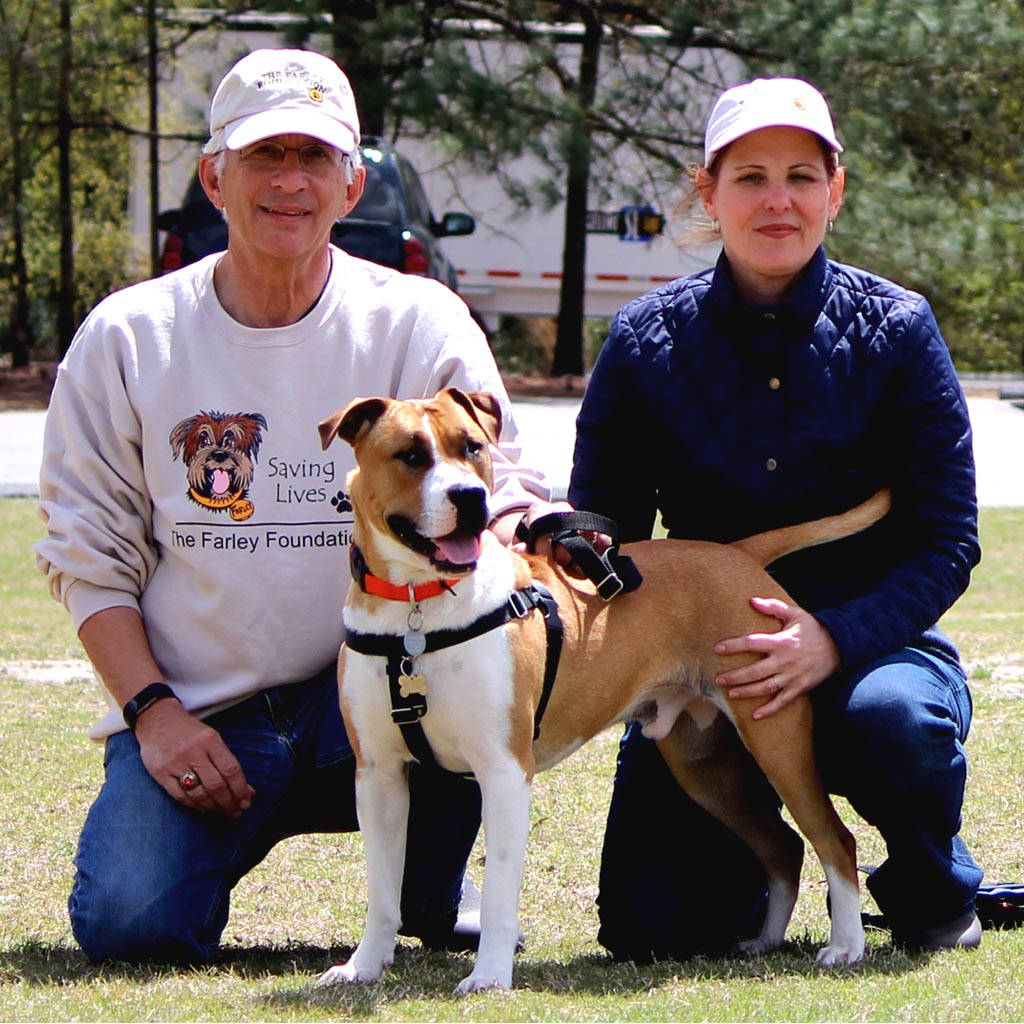 The Farley Foundation: Accomplishments and the Future
The Farley Foundation was created in early 2014 initially as a potential forum for animal welfare advocacy, pet responsibility and education. Changing circumstances led to a change in direction and in the Fall of 2014 we began facilitating the rescue, transport, and adoption of kittens with a northern rescue group. Soon thereafter, we were provided a unique housing opportunity for rescued dogs. When Debbie Adoree and Jimmy Dickenson, owners of Seven Lakes Kennels, generously donated the use of an outdoor pavilion containing 20 kennels, we immediately began rescuing at risk dogs from our local public animal center. As of this writing, we have saved the lives of 298 animals since inception (an average of nearly ten per month) most originating here in Moore County. We believe that most of these animals would have been unnecessarily destroyed if they were not rescued… and without your support and generosity this would not have been possible.
Although we have seen local improvement in Moore County, thousands of adoptable animals are still unnecessarily killed each year in North Carolina public facilities. We will continue our efforts, and with your ongoing support, hope to fulfill our ultimate objective of going out of business. In the meantime, there is no shortage of opportunities to save the lives of so many homeless and defenseless animals.
HELPING DOGS IN NEED
Many otherwise adoptable dogs are killed in public facilities solely because they have special needs, whether reversible unwelcome behavioral issues or treatable medical conditions. Although we prefer to rescue adoptable animals with no such issues (simply because they are more likely to be quickly adopted, thereby opening space for us to rescue another) we sometimes encounter special dogs in need and feel compelled to take them into The Farley Foundation.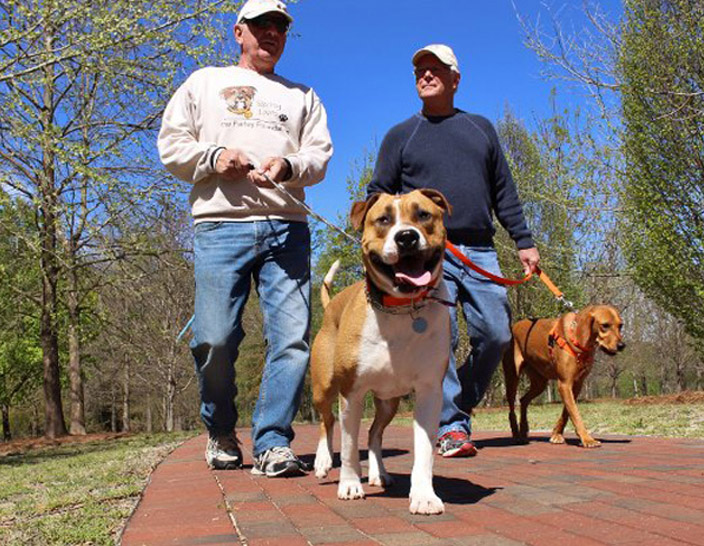 In our Spring report, we told you about Lazarus, a playful one year old pitbull mix who is substantially blind in both eyes. Although diagnosed with advanced kidney disease and arrhythmia, Laz continues to do well with a special diet and exercise. Several volunters have invited Laz for weekend sleepovers; it doesn't take him long to learn his surroundings and to acclimate to new environments.
We are committed to Laz, managing his symptoms and keeping him comfortable, happy, and as healthy as possible. He has a lot of life left in him and is available for a foster home or for permanent adoption. Until then, we are helping Laz become more adoptable through extensive training and in consultation with trainer Dana Brigman, owner of K9 Coach of the Carolinas in Rockingham, NC.
Smitty is another recently rescued dog who tested positive for heartworm disease. Under the guidance of Dr. David Garza of Pinehills Veterinary Hospital, we began his treatment.
With his delightful personality and loving disposition, Smitty has found his forever home right here in Moore County. Smitty is now named "Smalls" and we couldn't be happier for this sweet fellow.
We would not have been able to help Lazarus, Babbs and Smitty (and the many other wonderful companion animals afflicted with treatable conditions) without your help. Many dogs have reversible behavioral traits or treatable health issues that require too much time and money for a public facility to absorb.
RECENT EVENTS
There was no better place to spend a sunny April day than at SpringFest 2017 in downtown Southern Pines! This annual event provides us an opportunity to gain exposure for our mission and to recruit new volunteers and other support. We are always pleased to see the Farley "graduates" who stop by for a visit!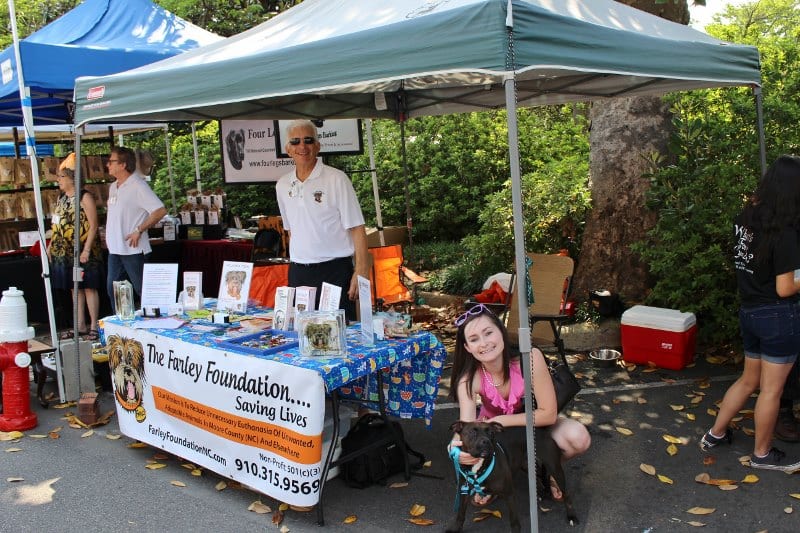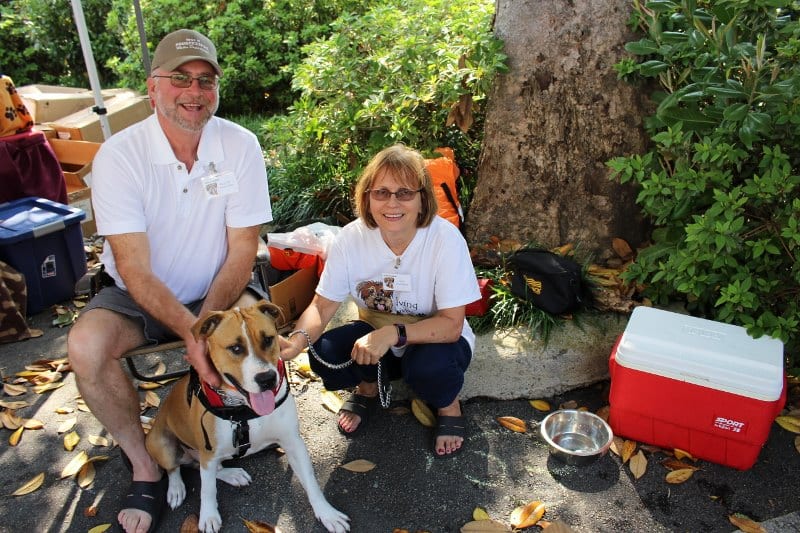 Volunteers Joan Trombini and Bill "O.B." O'Briskie relaxed with Laz, who enjoyed his afternoon at SpringFest immensely. After greeting everyone who stopped by to say hello, Laz took time for an afternoon nap, resting in the cool shade of the Farley canopy.
The Farley Foundation also recognizes other corresponding needs in our community and that interaction between the dogs and individuals, whether the elderly or those with special needs, benefits both significantly.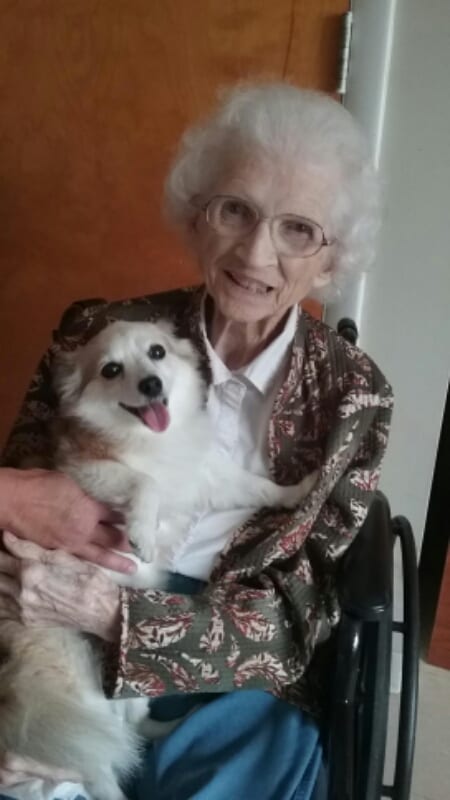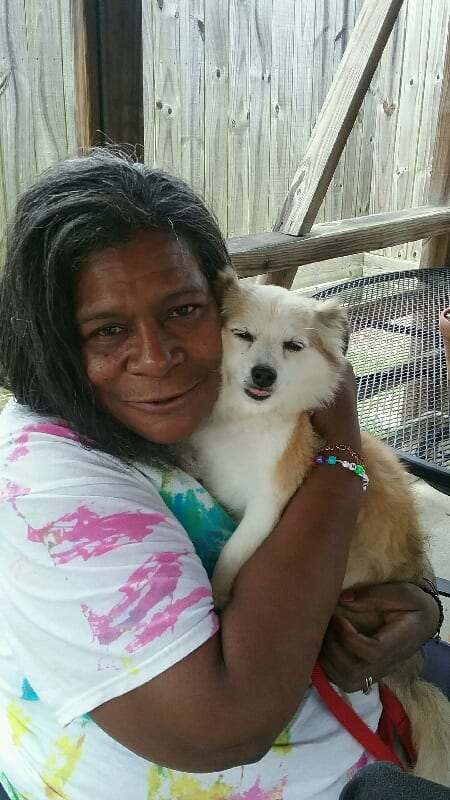 Farley dogs continue to pay twice monthly visits to the residents at Sandhills Memory Care in Seven Lakes, providing comfort and great therapy for all. Whether big or small, our dogs melt hearts and inspire everyone to enjoy some canine attention. Palmer and Bean, two of the smallest Farley visitors, are always invited to jump into a lap for a cuddle or snuggle!
The Farley Foundation is proud to help our community whenever possible. The Monarch Program in Southern Pines seeks work opportunities and experience for their residents; TFF has tasks that can be handled away from the kennel.
In the Fall, Farley dogs will accompany Volunteers to the Monarch Activity Center, offering "pet responsibility" workshops for the program residents.
Every Monday, Farley Volunteer Tom George picks up soiled towels, linens and rags which need to be laundered.
Harbour Laundromat in Southern Pines is where Adam and Donna from The Monarch Program take charge of washing, drying and folding the clean sheets and towels. When the laundry is done, Tom drives everything back to the Farley kennel.
Farley dogs love clean bedding and we are grateful to everyone at The Monarch Program for helping to make this possible.
Interested in volunteering? There's always a place for volunteers at The Farley Foundation, young or young at heart!
Seven Lakes Prescription Shoppe sponsored "March of Paws," a month-long fundraiser in support of Moore County Neighborhood Cats and The Farley Foundation. Donation jars and a list of needed items were placed in several local businesses for the event. At the end of the month, all items collected and 100% of the monetary donations were split between the two shelters.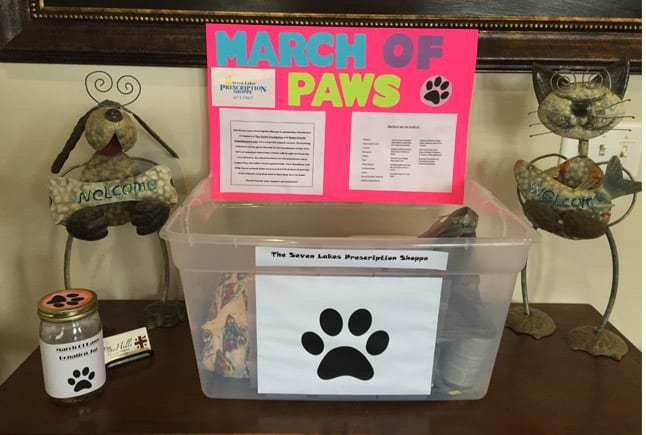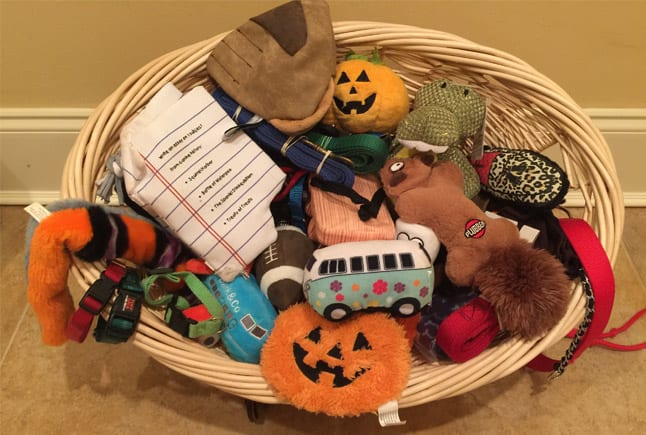 The Farley Foundation received a car load of bedding, food, treats and kennel supplies. Many thanks to Rob Barrett, PharmD & Owner, Alexis Corky, CphT & Marketing Manager, and the staff for helping our animals in need. All prescriptions for our dogs priced at $25 and under are donated! They also take the time to divide Laz's baby aspirin pills into fourths, which would be impossible if we needed to use a knife!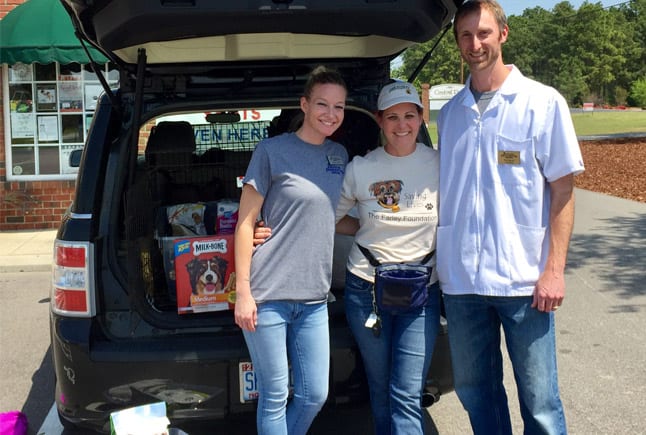 Surgi-Snugglies are a multi-purpose comfort and anxiety wrap with a soft stretchy material which provides comfort for dogs and cats recovering from wound care. Farley dogs sport these wraps after their spay/neuter surgeries. A recent donation of 164 snugglies was made to TFF, ensuring that our dogs will recuperate with less stress and discomfort.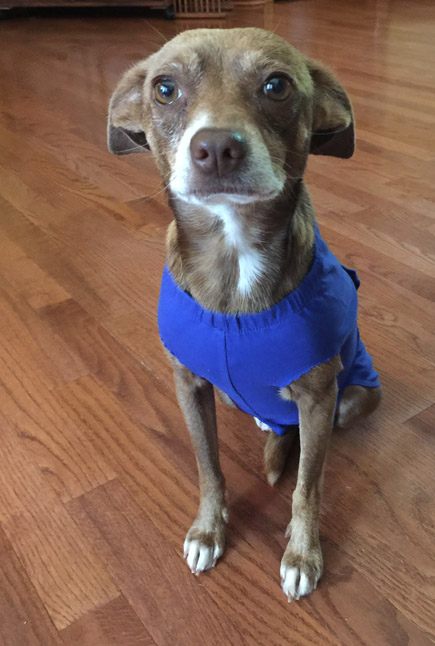 Little Fawn, now known as Lexi, modeling her petite sized Snuggly, gives a paws up for this alternative to the hard plastic Elizabethan collar. A pint sized fashionista, she appreciated the comfort and the style.
Snugglies are recommended by many veterinarians and rescue organizations. The Farley pack sends a hearty thanks to the kind-hearted donor. Mutts appreciated!
We are so grateful for the support shown by the business community and their concern for the plight of Moore County animals. Many thanks to our friends at Molamphy-Nationwide Insurance, Talbot's, Belk, Cared for Canine and Cat, Tractor Supply and PetSmart, all of whom continue to support our mission in a variety of ways.
COMING EVENTS
SAVE THE DATE: "WITCHES NIGHT OUT" THURSDAY, OCT. 28th OUR HALLOWEEN FUNDRAISER AT FOREST CREEK GOLF CLUB.
Watch for us at AutumnFest in Southern Pines on October 7th and at HollyFest in Pinehurst on October 21st.

STRENGTH THROUGH PARTNERSHIPS
Along with the support from so many in our business community, we are blessed with a number of individual donors, and of course, our dedicated volunteers. Our principal business partner is Seven Lakes Kennels. Co-owners Jimmy Dickenson and Debbie Adoree generously provide the kennel space that allows The Farley Foundation to administer its unique form of animal rescue, care, and adoption.
Many in the local veterinary community provide The Farley Foundation with favorable rates on services and supplies.
We are grateful for their support and demonstration of professional responsibility, in particular: Dr. David Garza of PineHills Veterinary Hospital in West End; Drs. James Watson and Laura Whitehead of Pinetree Animal Hospital in Aberdeen; and Dr. Tim Boyte of Carthage Animal Hospital in Carthage.
When five Farley dogs needed their Health Certificates before their recent transport north to Double Dog Rescue in CT, Dr. David Garza and Shayna Garza of PineHills Veterinary Hospital made a house call to the kennel.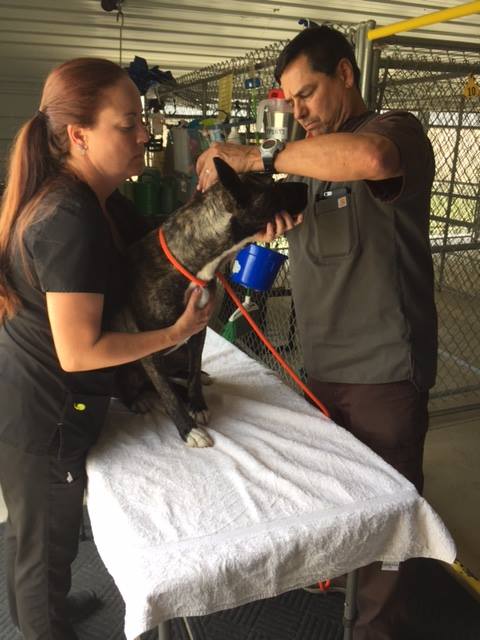 Dr. Garza and Shayna examine Cordelia. A clean bill of health was given to all five dogs. With a scratch behind the ear and a rub on the chest, each dog was given this blessing: "You're in good health, pup, so go out and find your home!"
Under the guidance of teacher Sharon Manies, students enrolled in the Veterinary Assistant class at Pinecrest High School become Farley Foundation Volunteers and receive hands-on experience at our facility on a weekly basis during the school year. We look forward to their participation again in the Fall.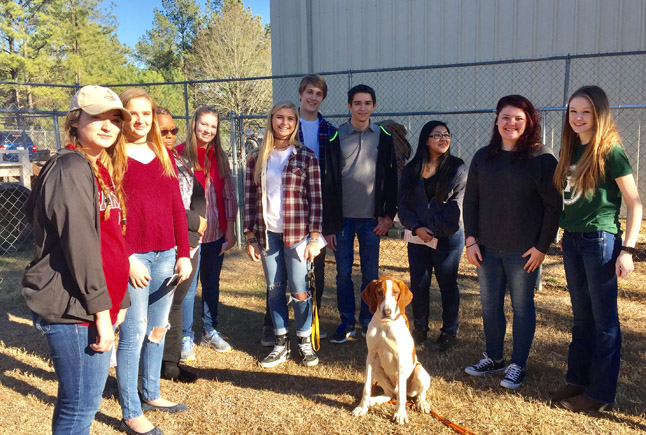 Eric quickly assumed the role of class mascot.
Animal care basics, such as carrying and restraining a dog for an examination, bathing, nail clipping, and incision inspections, are taught before advancing to the administration of routine tests, drawing blood for tick borne diseases, testing fecal samples, etc. This program is a winning experience for all.
Students assist with Colby while Kristen Seawell draws blood for a SNAP test.
The Farley Foundation endeavors to find suitable local homes for its "graduates" but also transports dogs to our rescue partner, Double Dog Rescue, in Unionville, CT. The demand for adoptable, homeless dogs exceeds the supply numbers in many northern communities due to their progressive approach in enacting spay/neuter and registration laws. Upon arrival, our dogs are immediately placed in foster homes. Adoptions are handled by Double Dog through their regional network throughout New England. We are extremely fortunate to have formed this relationship with a group that shares our mission of qualitative animal rescue. To date, over 50 Farley dogs have been adopted through Double Dog Rescue.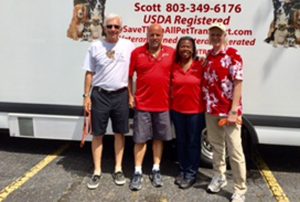 Save Them All Animal Transport ensures Farley dogs are treated well and arrive safely in CT.
Pam of P.E.T.S. LLC drove our five dogs up to Double Dog Rescue on Friday the 21st! Cordelia, Addison, Brook, Betsy and Colton enjoyed the air-conditioned accommodations and arrived well rested, ready to move in with their foster families.
IN CLOSING
We are always thankful for your support in helping us fulfill our objectives and further our mission. The Farley Foundation's success is your accomplishment as well, whether that support is in the form of a donation of time or money, or by adopting one of our animals. Still, our costs continue to increase in most expense areas and your financial assistance is critical to our future. On average, and accounting for all of our expenses, each rescued dog now costs The Farley Foundation nearly $500 to complete the process we insist upon implementing. Our adoption fees only cover about 50% of those costs. The net difference is covered by donations.
Thanks to you, nearly 300 animals are now enjoying their lives with their families in forever homes. Please help us continue our efforts to positively impact the serious animal overpopulation crisis in this region. The Farley Foundation's objectives also include promoting "no-kill" advocacy; preventing animal cruelty; encouraging animal welfare volunteerism; supporting spay, neuter and pet identification programs; and working with other local animal welfare organizations in achieving similar goals.
Our objective is to save lives and our approach is very simple: we focus on the best interest of each animal and nothing else.
If you would like to make a donation, click here or simply mail your check payable to: The Farley Foundation, P.O. Box 606, West End, NC 27376.
Sincerely,
John and Betsy Ficarro, Co-Founders