We once again sincerely thank you for helping us facilitate our objectives and further our mission. The Farley Foundation has succeeded only because of your generosity, whether in the form of a donation of time or money, adopting one of our animals or simply promoting our mission and being an animal welfare advocate. We have accomplished quite a bit in nearly four years and will be able to do more only with your support. Thanks to you, 300 animals are with their families in forever homes. Most of these animals would otherwise not have lived to enjoy the rest of their natural lives.
Spring is in the Air
This is a critical time in animal rescue. In early spring, more animals enter county shelters. Many of these animals are pregnant. Please help us continue our efforts to positively impact the serious animal overpopulation crisis here in North Carolina.
The Farley Foundation's objectives including promoting "no-kill" advocacy; preventing animal cruelty; encouraging animal welfare volunteerism; supporting spay, neuter and pet identification programs; and working with other animal welfare organizations in achieving similar goals.
The Farley Foundation employs a comprehensive program of care, assessment and training once an animal is rescued from a kill facility. We expend, on average, over $500 on each animal to complete this process but our adoption fees only cover 50% of these costs. The net difference is covered by private donations.
To make a donation, click here or simply mail your check payable to: The Farley Foundation, P.O. Box 606, West End, NC 27376.
Have a joyous season and please look forward to our second Spring Newsletter coming soon.
John and Betsy Ficarro, Co-Founders
Our Story
We created the Farley Foundation in January 2014 initially as a potential forum for animal welfare advocacy, pet responsibility and education. Changing circumstances took us in a different direction.
In the summer of 2014 we began facilitating the rescue, transport, and adoption of kittens with a northern rescue group. Soon thereafter, Debbie Adoree and Jimmy Dickenson, owners of Seven Lakes Kennels, generously donated the use of an area adjacent to their business containing 20 large kennels. After making several improvements to the existing space, we immediately began rescuing at-risk dogs from public "kill" facilities…and without your support and generosity, this would not have been possible. Still, thousands of adoptable animals are unnecessarily killed each year in North Carolina public facilities but we will continue our efforts with your ongoing support.
Many otherwise adoptable dogs are killed in public facilities solely because they have special needs, whether reversible unwelcome behavioral issues or treatable medical conditions. Although we prefer to rescue adoptable animals with no such issues (simply because they are more likely to be quickly adopted, thereby opening space for us to rescue another) we sometimes encounter special dogs that require more care and attention. They are more at-risk and as a result, we feel compelled to take them into The Farley Foundation.
Helping Dogs in Need
Abbey, a sweet two year old Flat Coat Retriever/Aussie mix, suffered from a shattered elbow, the result of an untreated gunshot wound.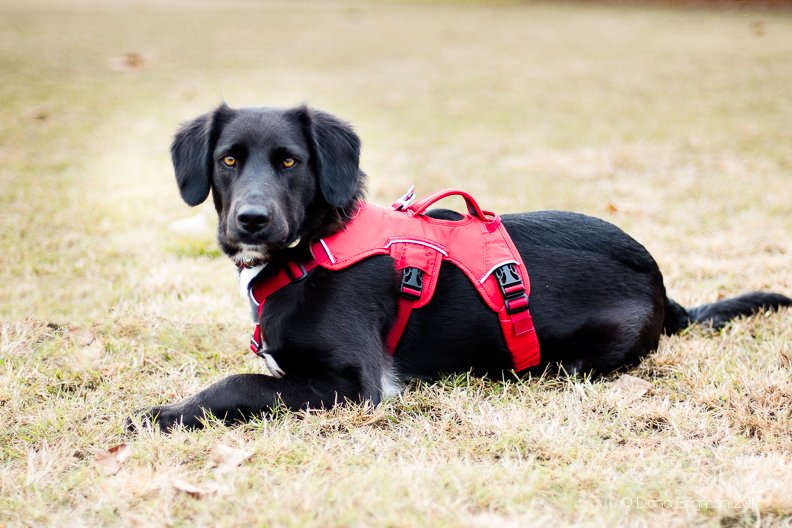 After recovering from her amputation and spay surgery, Abbey rejoined the Farley pack for walks through Rassie Wicker Park in Pinehurst. It wasn't long before she began leading the way, sporting a specially designed Web Master harness by Tripawds.
Lazarus is a two year old Pitbull/hound mix who has been substantially blind in both eyes since birth and was diagnosed with kidney disease after arriving at The Farley Foundation. His treatments include twice weekly sub-cutaneous fluid intake plus a special diet.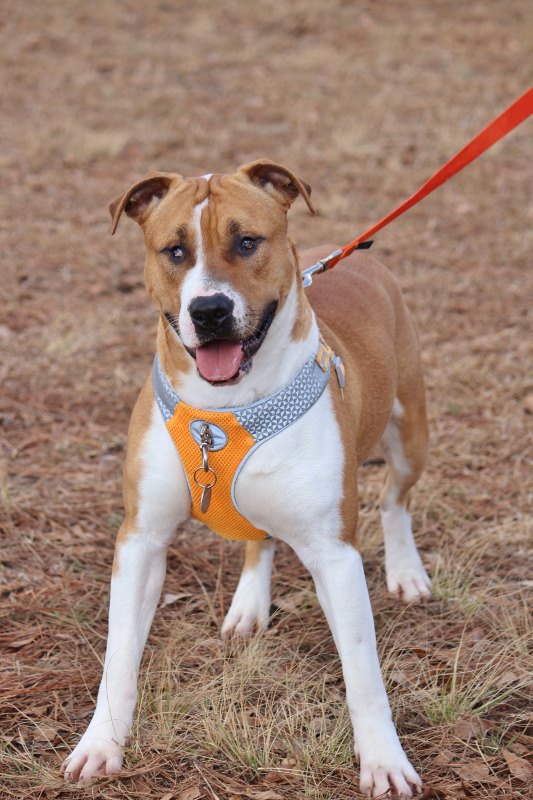 Despite these health issues, Lazarus remains a happy and good natured fellow! He loves walking through the woods behind The Village Chapel and strolling through Rassie Wicker Park. He is always patient and well behaved during his medical treatments. Laz is the official greeter as Volunteers enter the kennel. He loves car rides, and if the weather is cool, he dons his cowl necked sweater for those early morning walks!
We would not have been able to save Abbey or Lazarus (and many other wonderful companion animals afflicted with medical conditions) without your help. Please remember that there are many more dogs with treatable behavioral or health issues that require too much time and money for a public facility to reasonably absorb.
Last year, we chose to focus on this issue to maximize our efforts, save these highly at-risk animals and find them homes. This was also an effort to demonstrate that with the right approach and adequate resources, these special-needs dogs could find permanent homes .
Celebrating Valentine's Day at Seven Lakes Memory Care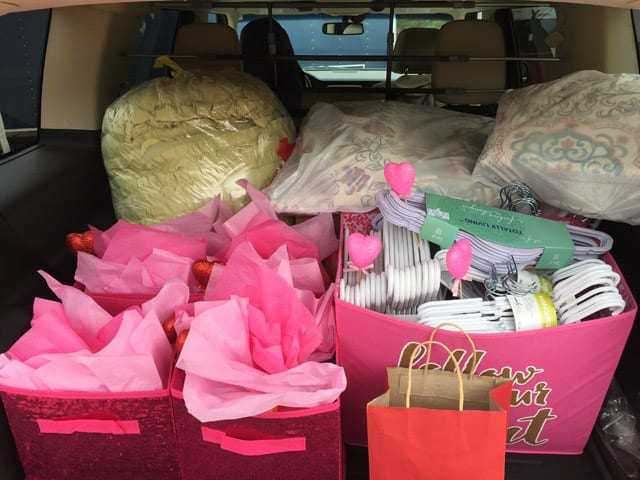 Invited to celebrate Valentine's Day with the residents of Seven Lakes Memory Care, Abbey, Champ and Laz felt they could not go empty handed! Volunteers collected many of the items on the facility's Wish List… enough to fill the back of Betsy's vehicle!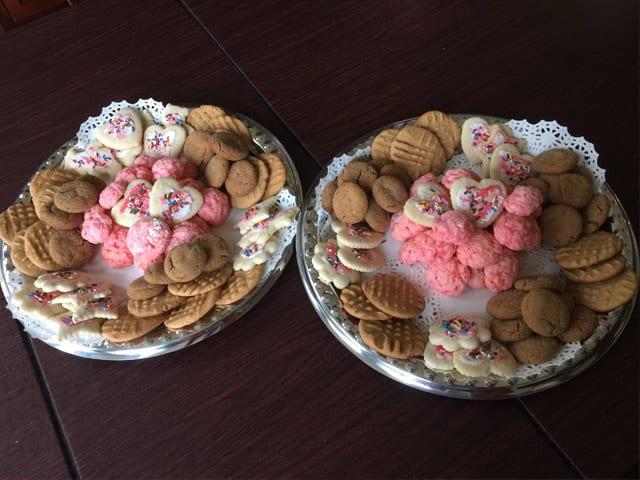 Valentine's Day just wouldn't be the same without sweets for the sweet! Cookies and treats were prepared by Farley bakers.
The goodies and donated items were all hand delivered by Champ, Abbey and Lazarus (with the help of Volunteers Bill Graham, Trish Elliott and Kennel Assistant, Allen McNeill).
Giving Back to our Community
Over the years, Farley dogs have frequently visited the residents of Seven Lakes Memory Care. We recognize that interaction between dogs and individuals, whether the elderly or those with special needs, benefits both significantly. These visits provide new, healthy experiences for the dogs, helping them gain confidence and the ability to adjust to new situations.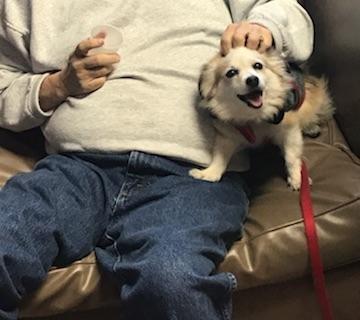 Since the facility is just a short stroll from the kennel, these visits are easy to schedule.
Palmer and Bean, both Farley dogs adopted by Volunteer Lex Mitchell, continue to pay twice monthly visits to the residents, providing comfort and great therapy for all. Bean, one of the smallest Farley visitors, is always invited to jump into a lap for a cuddle!
Bright-eyed Palmer has always been a hit with those who gather in the TV room. He's the perfect lap dog!
The facility's TV room is a wonderful space, allowing our dogs to mingle with ambulatory and wheel chair residents. Learning to navigate around walkers, wheelchairs, and canes is an important part of this experience.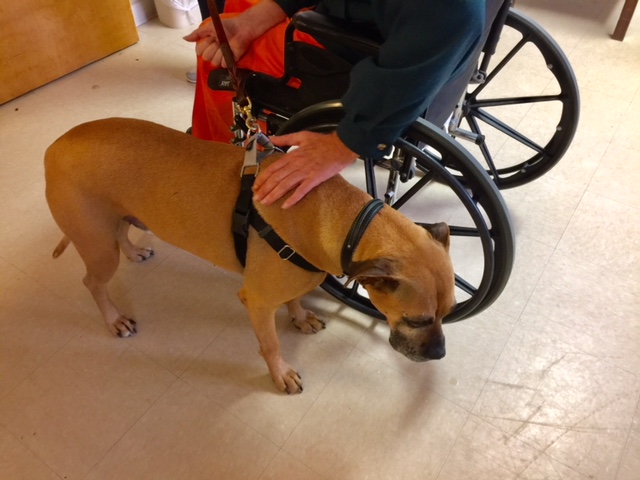 Abbey and Champ began visiting Seven Lakes Memory Care this winter, and their visits are now a weekly event.
Abbey, Farley's social butterfly, eagerly walks through every door, ready to greet everyone! With her silky coat and gorgeous plume of a tail, she quickly became a favorite.
An interesting side note: Farley dogs take daily walks, passing by the facility. During these walks, Champ and Abbey will both stop and sit in front of the building, perturbed that a visit is not on the day's agenda!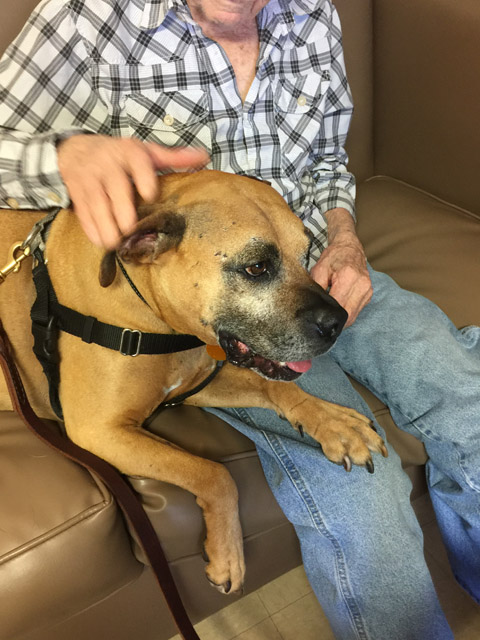 This gentleman is one of Champ's buddies! (Note Champ's carefully placed paw on the man's knee!)
Calm and dignified, Champ is well known for his impeccable manners! During his very first visit, this gentleman invited Champ to join him on the couch. It wasn't long before Champ's head was resting in the man's lap, which so delighted the man that he began singing God Bless America!
Whether big or small, our dogs melt hearts and inspire everyone to enjoy some canine attention! We've been told that residents who typically do not wish to leave their individual rooms will gladly gather in the TV area to visit with the dogs.

The Monarch Program
Monarch is a not-for-profit organization that supports thousands of people statewide with intellectual and developmental disabilities, mental illness, and substance use disorders. The Monarch Program in Southern Pines seeks work opportunities and experience for their residents. The Farley Foundation has tasks that can be handled away from the kennel and is proud to help our community whenever possible.
Every Monday, Senior Volunteer Tom George picks up soiled towels, linens, and cleaning rags, all needing to be laundered.
The laundry is delivered to Harbour Laundromat in Southern Pines where Donna from The Monarch Program takes charge of washing, drying, and folding the clean sheets and towels.
When the laundry is done, Tom drives everything back to the Farley kennel.
Farley dogs love clean bedding! We are grateful to Donna and everyone at The Monarch Program for helping to make this possible.
Donna's participation with Farley Foundation gives her a purpose. She often states, "It's better than sitting in front of the television all day!"
Preparing the Next Generation of Veterinary Professionals
Under the guidance of Animal Sciences teacher, Sharon Manies, students enrolled in the Veterinary Assistant class at Pinecrest High School become Farley Foundation Volunteers and receive hands-on experience at our facility on a weekly basis during the school year. Kristen Seawell, Vet Tech and Farley Foundation Volunteer, supervises the students at the Farley kennel.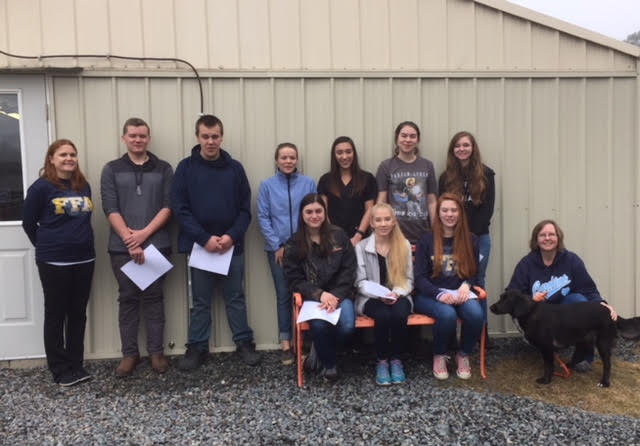 When the Pinecrest High School program began in 2014, several students became Farley Volunteers. In the Spring of 2015, The Farley Foundation began a partnership with the program, enabling students to receive training at our facility. The students shown at left are part of the Spring 2018 class, the seventh class to work on site with Farley dogs!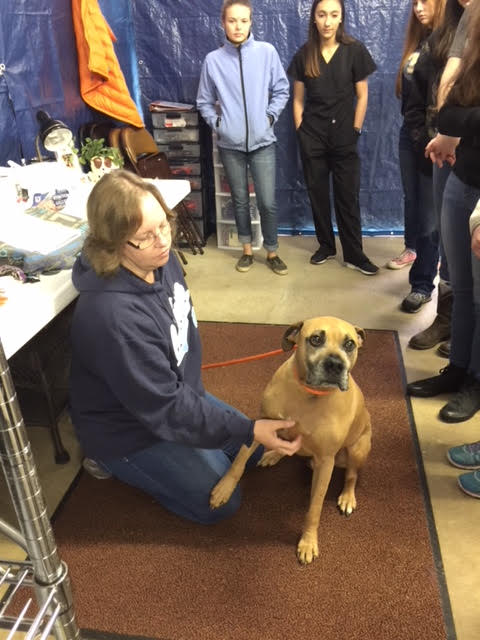 Vet Tech and Farley Foundation Volunteer Kristen Seawell supervises the students. Animal care basics, such as carrying and restraining a dog for an examination, bathing, nail clipping, and incision inspections, are taught before advancing to the administration of routine tests, drawing blood for tick borne diseases, testing fecal samples, etc. The students also learn about the behavioral and social aspects of the animals. When it comes to being handled by students, Champ is always a very patient and willing participant!
Abbey, Farley's tripod, was the subject of much interest and discussion. Since Abbey had been brought to the County shelter as an injured stray dog, topics ranged from the importance of spay/neuter programs, microchipping pets, handling an injured animal, and post surgical care.
Many dogs that students may encounter during their studies and careers may have been abandoned or treated poorly. Students teach the dogs to be receptive of handling through positive reinforcement techniques and socialization.
Delighting in her starring role, Abbey was unconcerned when examined by students and relished her time in the spotlight!
Sandhills Community College
Sandhills Community College Associate Dean, Kimberly Blue, was prompted by her daughter and former Farley Volunteer, Annon Blue, to provide support for The Farley Foundation by conducting a food/supply drive at the College.
The SCC Staff Council, along with the school's Student Government Association, held a two-week event in late March, distributing collection boxes throughout the school.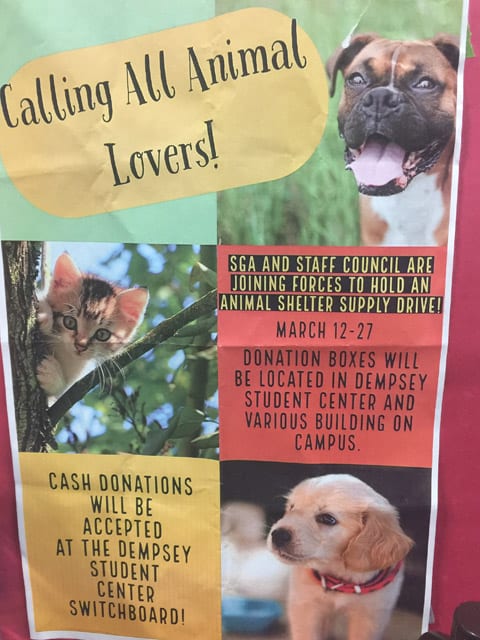 John Ficarro gave a brief presentation to SGA leaders, discussing the plight of homeless adoptable animals here in North Carolina. He explained what TFF does to help mitigate the problem and how it attempts to differentiate itself from other rescue groups.
Walk for a Dog with Wolftrax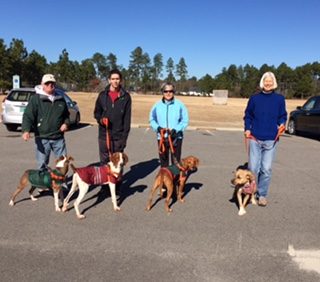 Join us with Walk For A Dog through WoofTrax, a free mobile app for exercising your dog and fundraising for The Farley Foundation at the same time.
We encourage all of our Friends to download the free app, available for both Androids and iPhones. Click here for the app: WALKFORADOG
Download the app to your cell phone, identify "The Farley Foundation, Inc." as your charitable organization, set up an account to track your mileage, then click "Start Walking"… and off you go!
When your walk is finished, simply click on "Stop Walking" and check your distance and time. Give your pup a drink and yourself a good pat on the back!
You can also jog, run, even ride your bike to accumulate miles.
You don't need to have a dog to use the app, but we are always looking for Dog Walkers to join the Farley pack. The location doesn't matter either. You can be cruising around the mall or shopping for groceries. Just keep your legs moving!
You do need to walk at least 1/4 mile per week to remain active with the program.
Finally, don't forget to click Stop Walking to stop the program before you drive off in your car. If the program tracks your speed at 25 mph, you will be told that you are going too fast to be believed! As of this writing, 21 Farley walkers have logged a total of 431 miles. Please contact John Ficarro if you have any problems with using the app.
How Time Heals
Spice was a very skittish, nervous hound who managed to escape twice while at Farley and once from her family. Adopted in the summer of 2015 by a loving and patient family, Spice slowly gained confidence and the family won her trust. This is a recent photo of Ms. Spice with her youngest family members. We were told that when the baby was born last year, Spice would not leave her side!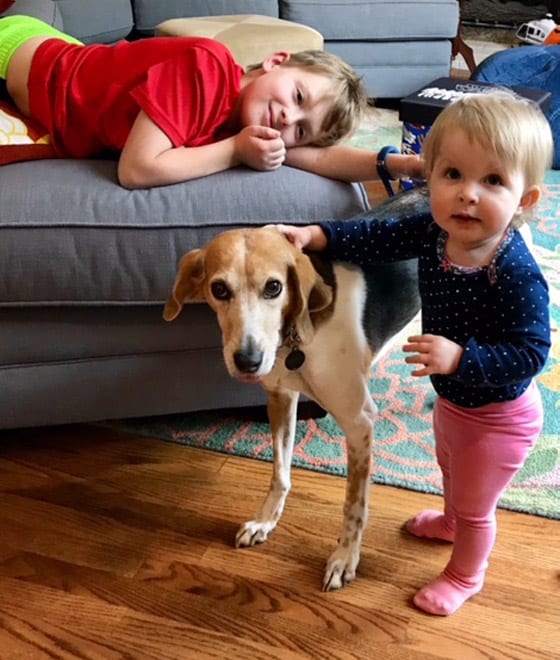 Strengths Through Partnerships
We are blessed with support from many in our business community, as well as a number of individual donors, and of course, our dedicated Volunteers. Our principal business partner is Seven Lakes Kennels.
Many in the local veterinary community provide The Farley Foundation with favorable rates on services and supplies. We are grateful for their support and demonstration of professional responsibility, in particular: Dr. David Garza of PineHills Veterinary Hospital in West End; Drs. James Watson and Laura Whitehead of Pinetree Animal Hospital in Aberdeen; and Dr. Tim Boyte of Carthage Animal Hospital in Carthage.
Local retailers and other businesses such as: Seven Lakes News, Cared For Canine and Cat, Loyel Media, Talbots, Sandhills Community College, Seven Lakes Prescription Shoppe, Paul Harkness Fine Jewelry, Molamphy and Associates-Nationwide, Aberdeen Exterminating, Forest Creek Golf Club and Pinehurst Laser Institute… among many others also support The Farley Foundation in a variety of ways, and we thank them all.
Springfest in Southern Pines
Please stop by and visit The Farley Foundation booth during Springfest in Southern Pines on Saturday, April 28 from 10 AM – 4 PM. Although we do not yet know our exact location, we are usually placed on NW Broad Street directly across from Sweet Basil's.
SpringFest is always a special event, providing us the opportunity to showcase Farley dogs available for adoption and provide relevant information to the general public.
This year's event will be even more special for our organization!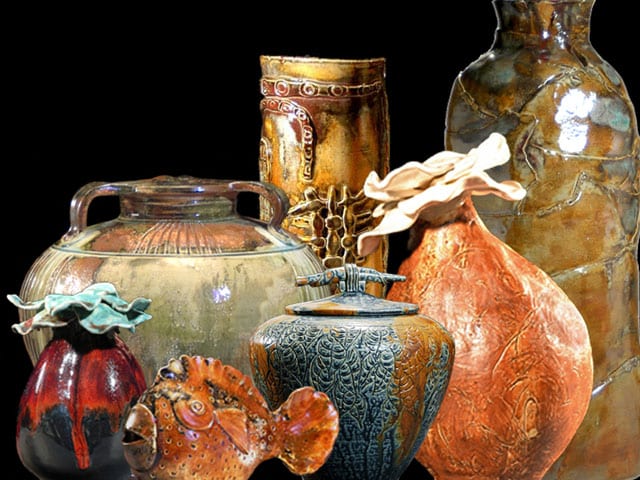 The booth for Fireshadow Pottery of Eagle Springs (Sally and Mo Larson are owners) will be located adjacent to ours, with a large inventory of their one-of-a-kind, handmade pottery for sale.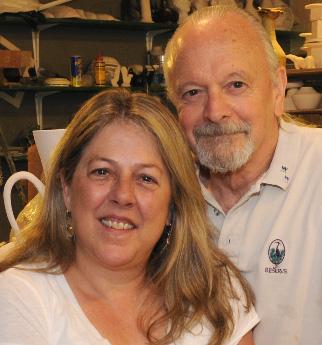 All sales proceeds from this event will be donated to The Farley Foundation. We thank Sally and Mo for their unprecedented generosity!