Please join us for a bewitching evening at Farley's Fall Fundraiser… in costume, of course! Park your broomstick in the Forest Creek Golf Club lot and join your ghoulfriends, imbibing toxic potions, nibbling the wide variety of freaky food and browsing the many holiday and other silent auction items….all while waving your wand and casting spells of benevolence on the homeless adoptable animals of Moore County.
Ladies only, 21 and over. Silent Auction, Raffle, Costume Contests and other surprises! Price of admission ($60.00) is all-inclusive.
Saturday, October 28th, 2017
7:00 PM until the Witching Hour
Forest Creek Golf Club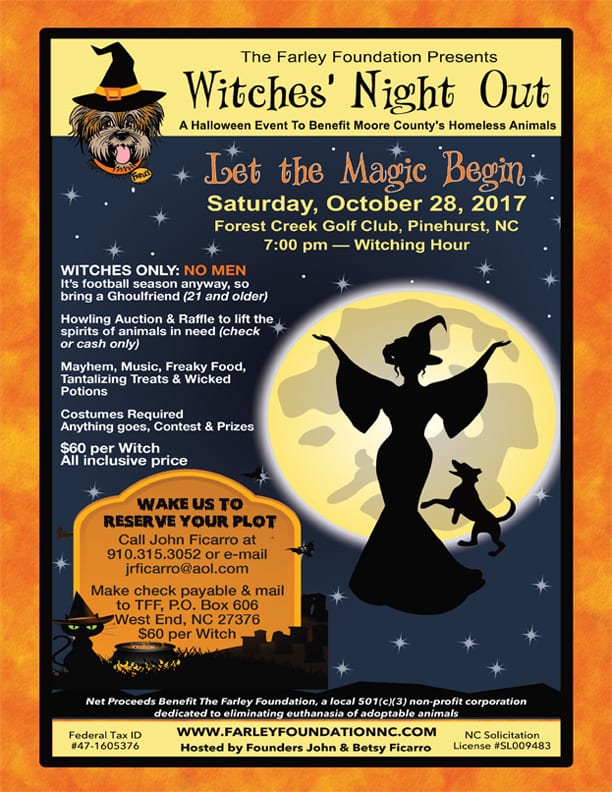 For reservations and information (and/or if you would like to donate an item to our silent auction or raffle) please contact John Ficarro at 910-315-3052. Join the fun and please help us continue saving lives.
HELPING DOGS IN NEED
Many otherwise adoptable dogs are killed in public facilities solely because they have special needs, whether reversible unwelcome behavioral issues or treatable medical conditions. Although we prefer to rescue adoptable animals with no such issues (simply because they are more likely to be quickly adopted, thereby opening space for us to rescue another) we sometimes encounter special dogs in need and feel compelled to take them into The Farley Foundation.
ABBEY
Abbey, a two-year old female collie mix, is our 300th rescued animal, joining the Farley pack in late summer. She was featured in The Pilot in early September.
Abbey arrived in obvious pain, unwilling to put any weight on her right front leg. An examination by our veterinarian revealed that she was suffering from an untreated irreparable gun shot injury and that the leg had to be removed.
Abbey, now five weeks out from surgery, is back at our shelter happy, healthy, and energetic. While she loves interacting with people and dogs, we continue to limit her canine play, protecting her shoulder. She does join the Farley pack on bi-weekly strolls through Rassie Wicker Park in Pinehurst, where she has no trouble keeping up with her buddies!
---
LAZARUS
We have written about Lazarus, our visually impaired resident, in previous newsletters. Over the summer months, many volunteers have helped "Laz" gain confidence and comfort in exploring the world away from the shelter. Despite his handicap, he has discovered that life on the "outside" has a lot to offer!
Shortly after rescuing Laz, we discovered that he also suffers from a form of kidney disease that requires periodic subcutaneous fluid treatments.
This doesn't restrict him in any way from enjoying his life to the fullest.
It requires time and commitment to keep Laz happy and healthy. Shown above are several days of healthy homemade meals: a simple yet effective diet to help manage his disease. John Ficarro is Laz's personal chef; Betsy Ficarro handles packaging and labeling to ensure variety. Laz gives the food a five star rating!
---
CHAMP
Champ, shown below, is our resident elder statesman. An eight year-old boxer mix, Champ was surrendered to the county facility by his owner who was suffering from a terminal illness and could no longer properly care for him. He is a large, sweet, lovable guy who just wants to be with his humans; he enjoys walks and loves car rides.
ACCOMPLISHMENTS AND THE FUTURE
The Farley Foundation was created in early 2014 initially as a potential forum for animal welfare advocacy, pet responsibility and education. Changing circumstances led to a change in direction and in the Fall of 2014 we began facilitating the rescue, transport, and adoption of kittens in association with a northern rescue group. Soon thereafter, we were provided a unique housing opportunity for rescued dogs. When Debbie Adoree and Jimmy Dickenson, owners of Seven Lakes Kennels, generously donated the use of an outdoor pavilion containing 20 kennels, we immediately began rescuing at-risk dogs from local public facilities. We have saved the lives of 300 animals since inception, most originating here in Moore County. We believe that most of these animals would have been unnecessarily destroyed if they were not rescued… and without your support and generosity this would not have been possible.
Although we have seen steady improvement here in Moore County, thousands of adoptable animals are still unnecessarily killed each year in other North Carolina public facilities. We will continue our efforts with your support and hope to fulfill our mission. In the meantime, there is no shortage of opportunities to save the lives of so many homeless and defenseless animals.
RECENT EVENTS
It was recently time for Fall cleanup at the shelter. A hardworking crew, supervised by cleaning chief, Betsy Ficarro, effectively accomplished the many tasks needed to ready our facility for the cooler months ahead. Volunteer Diane Lisevick led another group of volunteers on our bi-weekly dog walk in Pinehurst's Rassie Wicker Park, making the kennel cleaning job easier…and the dogs prefer walking to scrubbing anyway!
Sadly, on the morning of October 3, we suddenly lost a very special Farley volunteer in a motor vehicle accident. Michael Sean Murphy (photo above with Abbey and as part of the Fall cleanup crew, third from right, in the group photo below) perished in a two-car collision in Carthage. He was only 51 and greatly enjoyed spending time with the dogs and helping at the shelter in general. He will be sorely missed. Our deepest sympathies go out to his mother, Lynette; stepfather David Crosby (also a Farley volunteer); and the rest of his family.
AUTUMNFEST 2017
There was no better place to spend a beautiful October day than at AutumnFest 2017 in Southern Pines' downtown park! This annual event provides us with an opportunity to gain exposure for our mission, recruit new volunteers, and seek other support…and we are always pleased to see the Farley "graduates" who stop by for a visit.
Wuffles was a big hit with all the kids who came by to play and pet her…she slept really well later!
COMING EVENTS
Watch for us at the Shaw House in Southern Pines on October 14th; at HollyFest in Pinehurst on October 21st; and at Talbot's in Pinecrest Plaza on November 9th where 10% of all sales will benefit The Farley Foundation.
STRENGTH THROUGH PARTNERSHIPS
Along with the support from so many in our business community, we are blessed with a number of individual donors, and of course, our dedicated volunteers. Our principal business partner is Seven Lakes Kennels. Co-owners Jimmy Dickenson and Debbie Adoree generously provide the kennel space that allows The Farley Foundation to administer its unique form of animal rescue, care, and adoption.
Other local businesses who consistently support our efforts in many ways are: Loyel Media; Aberdeen Exterminating; Molamphy-Nationwide Insurance; Talbots; Cared For Canine and Cat; Seven Lakes Prescription Shoppe; PetSmart; Tractor Supply; Bump & Baby; Village Wine Shop; Hawkins and Hawkins Fine Jewelers…among a host of others.
Many in the local veterinary community provide The Farley Foundation with favorable rates on services and supplies. We are grateful for their support and demonstration of professional responsibility, in particular: Dr. David Garza of PineHills Veterinary Hospital in West End; Drs. James Watson and Laura Whitehead of Pinetree Animal Hospital in Aberdeen; and Dr. Tim Boyte of Carthage Animal Hospital in Carthage.
IN CLOSING
We are continually thankful for your support in helping us fulfill our objectives and further our mission. The Farley Foundation's success is your accomplishment as well, whether that support is in the form of a donation of time or money, or by adopting one of our animals. Still, our costs continue to increase in most expense areas and your financial assistance is critical to our future. On average, and accounting for all of our expenses, each rescued dog now costs The Farley Foundation nearly $500 to complete the process we insist upon implementing. Our adoption fees only cover about 50% of those costs. The net difference is covered by donations.
Thanks to you, 300 animals are now enjoying their lives with their families in forever homes. Please help us continue our efforts to positively impact the serious animal overpopulation crisis in this region.
Our objective is to save lives and our approach is very simple: we focus on the best interest of each animal and nothing else.
If you would like to make a donation, click here or simply mail your check payable to: The Farley Foundation, P.O. Box 606, West End, NC 27376.
Obviously, all non-profit organizations such as ours rely on the financial generosity of the general public to succeed…or even survive. The same is true with respect to volunteer participation. We have a tireless core group of dedicated people who consistently volunteer their time but we have plenty of room and the need for more. Please consider donating an hour or two of your time (once a week would make an impact!) to help us save more lives.
If you would like to become a Farley Volunteer, review the many opportunities available and please click here.
Sincerely,
John and Betsy Ficarro, Co-Founders