Local Rescue Group Saves 200th Animal
PINEHURST, North Carolina—The Farley Foundation, a local non-profit animal rescue organization ("TFF") recently celebrated the rescue of its 200th animal since inception in late 2014. Approximately 75% of the animals TFF has saved were dogs while the rest were mostly kittens rescued very early in the organization's existence. Nearly all of these homeless, at-risk animals originated in Moore County.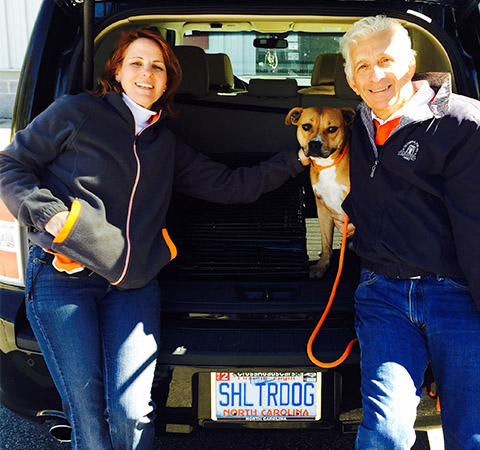 This particular dog, a medium-sized female named "Carrie," was rescued from the Moore County Animal Center where TFF focuses its efforts. What is most remarkable about number 200, now named "Sweet P," is that she is part of the much-maligned "pit bull" category which is not really a breed but simply a label. And that label has a significantly negative impact on any dog's chances for adoption, whether or not the subjective evaluation is accurate.
"We have been cautious in the past about saving pit bulls because, due to their large numbers in shelters nationwide, most northern rescue groups are unable to take them if we cannot find a suitable, local adopter." stated Betsy Ficarro, TFF President and COO. "We think it's very appropriate that our 200th is a pit bull. Due to "breed prejudice," this dog had an uncertain future, at best, despite her incredibly gentle temperament," added TFF Chairman and CEO, John Ficarro."
The celebration for TFF and Sweet P was not short-lived because she was adopted only a few days after taking up residence at TFF. She now enjoys the love and affection of a wonderful family in Whispering Pines along with the company of an older canine brother. Mr. Ficarro concluded: "This result simply ratifies our mission and re-enforces our purpose. If an animal is adoptable, it deserves our efforts, as a community, to find it a suitable home."
TFF is a 501(c)(3) charitable organization whose mission is to help reduce and ultimately eliminate the unnecessary killing of homeless adoptable animals in Moore County and elsewhere in North Carolina.