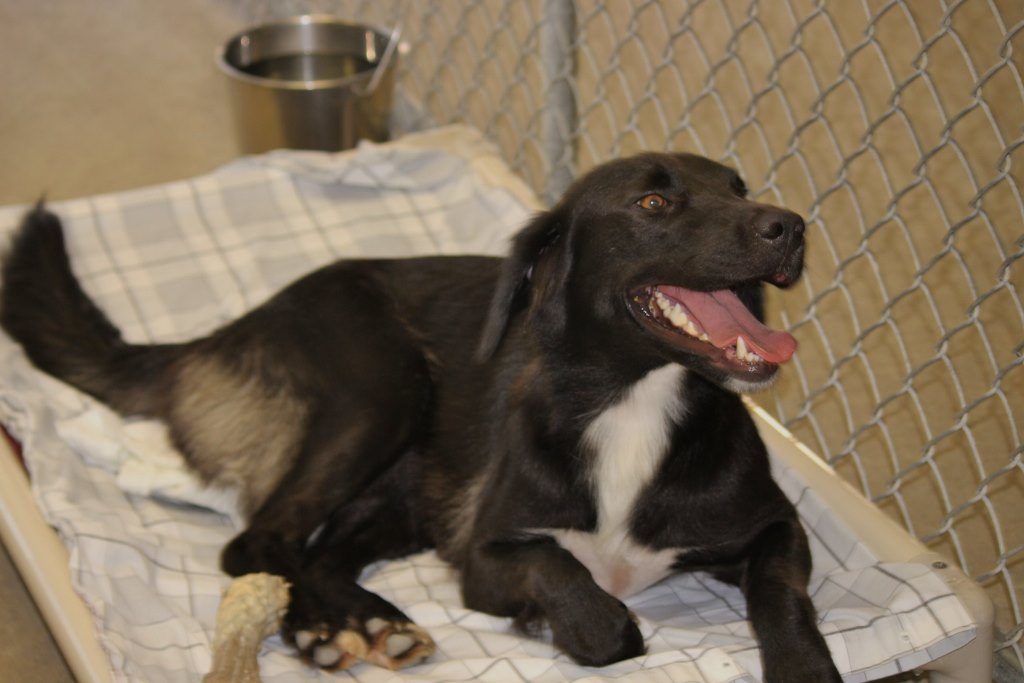 Local Rescue Group Saves 300th Animal Saving "Special Needs" Dogs
PINEHURST, North Carolina —— The Farley Foundation, a local non-profit animal rescue organization founded by John and Betsy Ficarro in 2014 ("TFF") recently celebrated the rescue of its 300th animal just a few weeks short of TFF's third anniversary.
Approximately 80% of the animals saved by TFF since its inception were dogs, while the others were kittens rescued early in the organization's existence and transported to New Hampshire where suitable homes awaited. Nearly all of these homeless, at-risk animals originated in Moore County.
This particular dog, a medium-sized, mild natured female named "Abbey," was rescued from the Moore County Animal Center ("AC") where TFF devotes most of its efforts. In recent months, TFF has slightly shifted its focus to also rescue certain "special needs" dogs as well as generally, at-risk adoptable dogs. "Special needs dogs are those animals with treatable conditions that cause their adoption to be very challenging and more at-risk due to the resources required to reverse or cure those conditions," stated John Ficarro, TFF Chairman and CEO.
"We have been very cautious in the past about allocating so much time and money to rescuing these dogs but we know that we are saving a life that would most likely have otherwise ended prematurely, so the return on our investment is great," said Betsy Ficarro, TFF President and COO.
Abbey is a one-year old female Border collie mix who was found as a stray in the Eagle Springs area. Unclaimed at AC, Abbey displayed a severe limp in her right, front leg which was subsequently discovered to be a shattered elbow, the result of an apparent gunshot wound that was never treated. "Knowing our propensity for saving dogs like Abbey, AC personnel thankfully pointed her out to me," added Mrs. Ficarro. "We continue to acknowledge and appreciate the many improvements being made at AC by the Sheriff's Department, including the reduction of the number of adoptable animals being destroyed but also understand that a dog like Abbey is more at-risk than most others due to the significant resources required for her care," said Mr. Ficarro.
Abbey will soon undergo surgery to amputate most of her injured leg but is expected to make a full recovery and be ready for adoption very soon. She joins a long list of special needs dogs previously rescued by TFF, including: a blind, one-year old hound/pit mix named Lazarus ("Laz" has also been diagnosed with kidney disease and is available for adoption); many testing positive (but treatable) for heartworm disease; and others with reversible behavioral issues and curable medical conditions.
Mr. Ficarro: "We feel that we have found an important niche that supplements our mission and will enhance our efforts to include dogs in county facilities that are most at-risk but ultimately adoptable so that they can live a normal, full life and thrive in a forever home." Mrs. Ficarro added: "Our mission is clear and our approach is simple; focus on what is in the best interest of each animal and nothing else."
TFF is a 501(c)(3) charitable organization whose mission is to help reduce and ultimately eliminate the unnecessary killing of homeless adoptable animals in Moore County and elsewhere in North Carolina.
Read the full story (September 3, 2017) in The Pilot here.