ADOPTED.
Cash is a five-year-old, neutered male Mastiff mix who weighs 60 pounds. This sweet, sweet guy is perfect for cuddling, evening strolls and being your constant buddy. Cash is an extremely well-mannered boy who adheres to commands: SIT and WAIT. He is current on all vaccinations, housebroken, great in the car and walks beautifully on lead.
Cash, our beloved 60 pound, mastiff mix, has been adopted into his forever home as of January 1st, 2020.
---
Cash does well with children and dogs of all sizes. With his puppy dog eyes, Cash seems to gravitate toward younger, active females within the pack. He shows no signs of food, toy guarding or aggression. This still active boy loves to run beside a golf cart which has given him the opportunity to shed a few pounds. When he's off duty, a good game of tug-of-war with a rope is right up his alley or he would be content to just sit quietly by your side.
---
Cash's Journey
Cash tested a slight positive for heartworm disease but he is now leaning towards going into the negative. As with any dog, with continual monthly Heartgard, Cash will be in the negative before you know it. He has no tick borne illnesses and is parasite/flea and tick free. This sweet guy has gotten the run around through no fault of his own, so only serious FOREVER applicants need apply.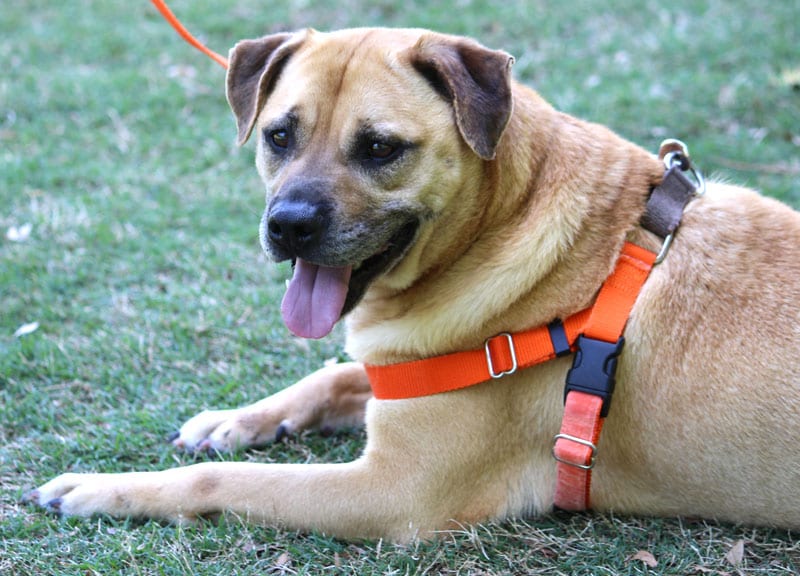 If you are interested in Cash, please complete our online adoption application. Please include all phone and email contacts for all adult parties. If you have difficulty submitting the application please don't hesitate to call 910-315-9569 or Adopt4leggeds@aol.com to request a hard copy. Meet & Greets are not established until adoption applications have been submitted.
---
Thank you for your interest in Cash and for wanting to save his life and the one that follows ~ Mutts Appreciated! The Farley Foundation, Inc.
CASH was pulled from Moore County in 2015 by The Farley Foundation (TFF) and adopted within the same year. Three and half years later we receive a call from a South Carolina shelter stating they had possession of him due to owner surrender. Apparently, Cash was re-homed by his original adopter. Luckily TFF had Cash microchipped and we were the first to be contacted. Microchips Save Lives.
---